2nd IAU Match Crossbow World Championships, Arosa, Switzerland
July 12-19, 1981
---
| Home | 1979 Linz | 1981 Arosa | 1983 Bad Homburg | 1985 Zundert | USANA Shoots | 1987 Rohrbach | 1989 Wolverhampton | 1991 Wil | 1993 Bully-les-Mines | 1995 Naefels | 1997 Ringgenberg | 1999 St. Veit | Distinguished Shooters | National Records | Medals Ranking | Meetings |
---
Read about the two years leading up to Arosa here.

USA Team Members:
Ethel-Ann Alves (Female)
Robert Aylward
Thurston Banks
William Boyle
Ray Carter
David Cramer
David Kimes
Teri Leone (Female)
Bruce Meredith
James Meredith
Margret Paulsen (Female)


Medal Results:
Jim Meredith - Silver - 10m Men
USA (Ray Carter 290, James Meredith 283, David Cramer 271, David Kimes 271, Bruce Meredith 268, Robert Aylward) - Bronze - 30m Standing


Results:
10m Standing 40 shots:
Team:
1st - Germany 1515
2nd - Austria 1501
3rd - France 1496
4th - Switzerland 1477
5th - USA 1454 (James Meredith 381, Ray Carter 366, Thurston Banks 362, Robert Aylward 345, David Cramer)
10 teams

Individual:
1st - Kurt Rauner Austria 386
2nd - James Meredith USA 381
3rd - Gottfried Kustermann Germany 381
4th - Alain Toillie France 380
5th - Hans-Joachim Bessert Germany 379
6th - Daniel Nipkow Switzerland 379
7th - Alfons Bieringer Germany 378
8th - Robert Kuplwieser Germany 377
17th - Ray Carter USA 366
20th - Thurston Banks USA 362
32nd - Robert Aylward USA 345
41 competitors
---
30m Standing 30 shots:
Team:
1. GERMANY 1407 (Kuplwieser 292, Krenn 282, Sichert 280, Horneber 278, Bichler 275)
2. FRANCE 1402 (Bury 292, Toillie 286, Bessy 283, Charlier 277, Duparchy 264)
3. USA 1381 (Ray Carter 290, James Meredith 283, David Cramer 271, David Kimes 271, Bruce Meredith 268, Robert Aylward)
4. SWITZERLAND 1357 (Nipkow 292, Brun 270, Forrer 269, Strasser 268, Grossglauser 258)
5. AUSTRIA 1354 (Polding 282, Hottowy 276, Kronthaler 274, Supancic 265, Mesaric 257)
9 teams
Individual:
1. Robert Kuplwieser GER 290
2. Michel Bury FRA 287
3. Daniel Nipkow SUI 285
4. Hubert Bichler GER 283
5. Andreas Kronthaler AUT 283
6. Ray Carter USA 283
7. Malcolm Cooper GBR 282
8. Alain Toillie FRA 282
9. James Meredith USA 281
10. Gottfried Kustermann GER 280
16. David Kimes USA 278
29. Bruce Meredith USA 267
35. Robert Aylward USA 254
35 competitors
---
30m Kneeling 30 shots:
Team:
1. SWITZERLAND 1448 (Nipkow 297, Grossglauser 293, Sicher 287, Brun 286, Strasser 285)
2. GERMANY 1440 (Kuplwieser 290, Kusterman 289, Krenn, 288, Bichler 287, Horneber 286)
3. FRANCE 1422 (Toillie 290, Bury 289, Bessy 283, Charlier 282, Duparchy 278)
4. AUSTRIA 1420 (Polding 287, Windhofer 286, Mesaric 283, Hottowy 282, Supancic 282)
5. USA 1413 (James Meredith 288, David Kimes 287, Ray Carter 284, Bruce Meredith 281, Robert Aylward 273, David Cramer)
9 teams
Individual:
1. Gottfried Kustermann GER 296
2. Robert Kuplwieser GER 295
3. Hubert Bichler GER 295
4. Malcolm Cooper GBR 294
5. Alain Toille FRA 294
6. Heinz Strasser SUI 293
7. Pascal Bessy FRA 293
8. Erwin Grossglauser SUI 292
9. Daniel Nipkow SUI 292
10. Ralph Horneber GER 292
16. David Kimes USA 289
19. James Meredith USA 286
20. Ray Carter USA 286
22. Bruce Meredith USA 282
35 competitors
---
30m Combined :
Team:
1. GERMANY 2842 (Kuplweiser 582, Krenn 570, Horneber 564, Kustermann 563, Sichert 563)
2. FRANCE 2824 (Bury 581, Toille 576, Bessy 566, Charlier 559, Duparchy 542)
3. SWITZERLAND 2802 (Nipkow 589, Brun, 556, Strasser 553, Forrer 553, Grossglauser 551)
4. USA 2793 (Ray Carter 574, James Meredith 571, David Kimes 558, Bruce Meredith 549, David Cramer 541, Robert Aylward)
5. AUSTRIA 2767 (Polding 569, Hottowy 558, Kronthaler 551, Supancic 547, Windhofer 542)
9 teams
Individual:
1. Robert Kuplwieser GER 585
2. Hubert Bichler GER 578
3. Daniel Nipkow SUI 577
4. Malcolm Cooper GBR 576
5. Michel Bury FRA 576
6. Alain Toillie FRA 576
7. Gottfried Kustermann GER 576
8. Andreas Kronthaler AUT 574
9. Pascal Bessy FRA 571
10. Erwin Grossglauser SUI 570
12. Ray Carter USA 569
15. James Meredith USA 567
16. David Kimes USA 567
25. Bruce Meredith USA 551
30 competitors
---
10m Standing (20 shots) Arosa Trophy (opening competition):
Individual:
1. Malcolm Cooper GBR 192
2. Robert Kuplwieser GER 191
3. Gottfried Kustermann GER 190
4. Ethel-Ann Alves USA 190 (Woman)
12. David Cramer USA 187
18. Ray Carter USA 184
20. Robert Aylward USA 183
21. Thurston Banks USA 183
38. Teri Leone USA 173 (Woman)
42. Margaret Paulsen USA 170 (Woman)
43. James Meredith USA 170
52 competitors
30m Combined (15 + 15) Arosa Trophy (opening competition):
Individual:
1. Gottfried Kustermann GER 294
2. Heiner Janson GER 288
3. Ray Carter USA 287
4. Robert Kuplwieser GER 287
5. Valentin Sicher SUI 285
6. Daniel Nipkow SUI 285
7. Malcolm Cooper GBR 285
8. Richard Sichert GER 284
9. Ralph Horneber GER 283
10. Philippe Charlier FRA 283
23. David Kimes USA 278
25. James Meredith USA 276
38. Robert Aylward USA 266
42. David Cramer USA 261
47. Thurston Banks USA 259
48. Bruce Meredith USA 258
63 competitors
Narrative:
Read about the two years leading up to Arosa here.
PROGRAM:
Sunday, July 12, 1981 - Arrival of the participants and supporters in Arosa
Monday, July 13, 1981 - Check-in of officials and competitors
Tuesday, July 14, 1981 - Opening competition, 10 m Arosa Trophy. Opening Ceremony.
Wednesday, July 15, 1981 - World Crossbow Shooting Championships, 10m Team and Individuals
Thursday, July 16, 1981 - Opening competition, 30 m Arosa Trophy.
Friday, July 17, 1981 - World Crossbow Shooting Championships, 30 m Teams
Saturday, July 18, 1981 - World Crossbow Shooting Championships, 30 m Individuals (top 35 from team match). Dinner.
Sunday, July 19, 1981 - Departure

There was not an official IAU event for the female shooters, but they were allowed to shoot the 10 m Arosa Trophy opening competition event. The strong showing by Alves, Leone and Paulsen went a long way in influencing the IAU to create Women's and Junior's events at the next IAU World Match Crossbow Championship in 1983.
Photos:

US Armbrust Association patch used by the USA team in Arosa.
It was designed by Margaret Paulsen, a member of the team.

David Cramer during his tryout for the 1981 team at Dick Neill's range in New Jersey.

Ray Carter shooting 10 meter.

3rd place 30m Standing medal won by the USA.

Ray Carter after finishing the preliminary competition, the 30 meter Arosa Trophy. He placed third behind Gottfried Kustermann (GER) and Heiner Janson (GER).

Malcolm Cooper (GBR), Margaret Paulsen and Ray Carter.

USA training 30m Standing.

Snowing in Arosa on the last night on July 18, 1981. Now that made for a fun ride
down the mountain!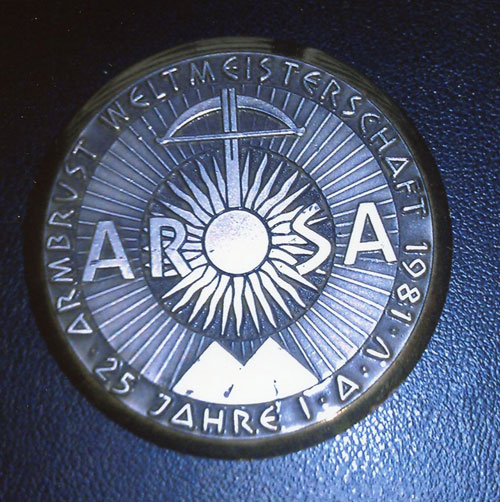 Participation momento.
---
| Home | 1979 Linz | 1981 Arosa | 1983 Bad Homburg | 1985 Zundert | USANA Shoots | 1987 Rohrbach | 1989 Wolverhampton | 1991 Wil | 1993 Bully-les-Mines | 1995 Naefels | 1997 Ringgenberg | 1999 St. Veit | Distinguished Shooters | National Records | Medals Ranking | Meetings |
---
If you have any photos or results, please email them to the webmaster Ray Carter at raypcarter@comcast.net.