3rd IAU Match Crossbow World Championships, Bad Homburg, Germany
August 7-14, 1983
---
| Home | 1979 Linz | 1981 Arosa | 1983 Bad Homburg | 1985 Zundert | USANA Shoots | 1987 Rohrbach | 1989 Wolverhampton | 1991 Wil | 1993 Bully-les-Mines | 1995 Naefels | 1997 Ringgenberg | 1999 St. Veit | Distinguished Shooters | National Records | Medals Ranking | Meetings |
---
USA Team Members:
Alex Aimette (Junior)
Ethel-Ann Alves (Woman)
Troy Baker
David Cramer
Glenn Dubis
Mark Kauder
David Kimes
Joyce Laubenheimer (Woman)
Teri Leone Ytzen (Junior)
Elizabeth McKay (Woman)
Bruce Meredith
Richard Neill
Phil Cox (Junior)
Medal Results:
Joyce Laubenheimer - World Champion (World Record) - 10m Women
USA (Joyce Laubenheimer, Elizabeth McKay, Ethel-Ann Alves) - World Champions (World Record) - 10m Women
Elizabeth McKay - Bronze - 10m Women
David Kimes - Bronze - 30m Standing
Glenn Dubis - Bronze - 10m Men
Results:
10m Standing 40 shots:
Men's Team:
1. Germany 1540 (Bieringer, Hillenbrand, Bessert, Rieth) World Record
2. Switzerland 1527 (Nipkow, Defaux, Billeter, Sarbach)
3. Austria 1524 (Kronthaleer, Heinrich, Rauner, Hottowy)
6. USA 1462 (Glenn Dubis 386, David Cramer 375, Bruce Meredith 352, Daniel Morse 349)
11 teams
Men's Individual:
1. Alfons Bieringer Germany 389
2. Andre Kronthaler Austria 388
3. Glenn Dubis USA 386
17. David Cramer USA 375
31. Bruce Meredith USA 352
35. Daniel Morse USA 349
49 competitors
Women's Team:
1. USA 1127 (Joyce Laubenheimer 383, Elizabeth McKay 376, Ethel-Ann Alves 368) (World Record)
2. Austria 1123 (Marschnig, Liendl, Anibas)
3. Switzerland 1109 (Baer, Grossglausser, Huber)
5 teams
Women's Individual:
1. Joyce Laubenheimer USA 383 (World Record)
2. Lisel Marschnig Austria 380
3. Elizabeth McKay USA 376
9. Ethel-Ann Alves USA 368
21 competitors
Junior Team:
1. Austria 1118 (Fink, Kaufmann, Hoffer) (World Record)
2. Germany 1118 (Obermaaier, Klein, Knappworst)
3. Israel 1066 (Simon-Tov, Sapir, Ben Ari)
4. USA 1056 (Alex Aimette 368, Theresa Leone Ytzen 350, Phil Cox 338
5 teams
Junior Individual:
1. Alois Fink Austria 379 (World Record)
2. Xaver Obermaier Germany 374
3. Karl Kauffmann Austria 374
4. Philip Heberle France 371
5. Alex Aimette USA 368
15. Teri Leone Ytzen USA 350
17. Phil Cox USA 338
18 competitors
---
30m Standing 30 shots:
Open Team:
1. Switzerland 1417 (Sarbach, Nipkow, Eschmann, Gantenbein, Sicher)
2. Germany 1411 (Hillenbrand, Krenn, Mueller, Kuplwiesser, Winzig)
3. France 1392 (Heberle, Bury, Toillie, Lander, Charlier)
4. USA 1375 (Glenn Dubis 283, David Cramer 277, Bruce Meredith 273, David Kimes 273, Troy Baker 269)
10 teams
Open Individual:
1. Robert Kuplwiesser Germany 286
2. Rudolph Krenn Germany 284
3. David Kimes USA 284
4. Philip Heberle France 283
5. Glenn Dubis USA 283
25. David Cramer USA 267
27. Bruce Meredith USA 266
30 competitors
---
30m Kneeling 30 shots:
Open Team:
1. Switzerland 1465 (Sarbach, Nipkow, Eschmann, Gantenbein, Sicher)
2. Germany 1448 (Hillenbrand, Krenn, Mueller, Kuplwiesser, Winzig)
3. France 1431 (Heberle, Bury, Toillie, Bessy, Charlier)
4. USA 1424 (Glenn Dubis 290, David Cramer 289, Bruce Meredith 288, David Kimes 285, Troy Baker 272)
10 teams
Open Individual:
1. Daniel Nipkow Switzerland 298
2. Rudolph Krenn Germany 294
3. Willi Mueller Germany 294
15. Glenn Dubis USA 284
18. David Cramer USA 282
19. David Kimes USA 282
29. Bruce Meredith USA 271
30 competitors
---
30m Combined 30 + 30 shots:
Open Team:
1. Switzerland 2882 (Sarbach, Nipkow, Eschmann, Gantenbein, Sicher) (World Record)
2. Germany 2859 (Hillenbrand, Krenn, Mueller, Kuplwiesser, Winzig)
3. France 2823 (Heberle, Bury, Toillie, Bessy, Charlier)
4. USA 2799 (Glenn Dubis 573, David Cramer 566, Bruce Meredith 561, David Kimes 558, Troy Baker 541)
10 teams
Open Individual:
1. Daniel Nipkow Switzerland 579
2. Rudolph Krenn Germany 578
3. Willi Mueller Germany 576
8. Glenn Dubis USA 567
11. David Kimes USA 566
18. David Cramer USA 549
24. Bruce Meredith USA 537
24 competitors

---

Opening Grand Prix Competition (20 shots):
Men's 10m:
1. Andre. Kronthaler Austria 198
2. Martin Billeter Switzerland 194
3. Daniel Nipkow Switzerland 194
15. Glenn Dubis USA 189
17. Mark Kauder USA 188
28. David Cramer USA 185
29. Bruce Meredith USA 184
46. Daniel Morse USA 170
60 competitors

Women's 10m:
1. Regina Busch Germany 192
2. Monika Schmid Germany 190
3. Elizabeth McKay USA 189
8. Ethel-Ann Alves USA 182
20 competitors

Junior 10m:
1. Alois Fink Austria 193
2. Xaver Obermaier Germany 190
3. Philipe Heberle France 190
5. Alex Aimette USA 188
12. Theresa Leone Ytzen USA 180
14. Phil Cox USA 172
21 competitors
---
Narrative:
The big story was that the IAU added Women's Individual and Team events and Junior (under 21) Individual and Team events in the 10 meter 40 shots standing competition. The USA Women did very well winning several medals and establishing two World Records!
David Kimes was elected as the IAU Vice President - North America.

Photos:
Thanks to Chris Aston and Bruce Meredith for the images!

Waiting on Opening Ceremony.

Marching in Opening Ceremony.

USA Medalists:
Glenn Dubis, Ethel-Ann Alves, Joyce Laubenheimer, Elizabeth McKay, David Kimes.

One of the direction signs.

Joyce Laubenheimer - Gold, Elizabeth McKay - Bronze.

Ethel-Ann Alves, Joyce Laubenheimer, Elizabeth McKay.

30 meter Match Crossbow shot by Bruce Meredith.

Here is a 30m bow made by Werner Schallberger of Necker, Switzerland.

Glenn Dubis

Mark Kauder

Troy Baker talking to David Cramer (with bow)

David Kimes

Bruce Meredith

Glenn Dubis waiting to receive his bronze medal in Men's 10m Standing.

Poster from Bad Homburg

Glenn Dubis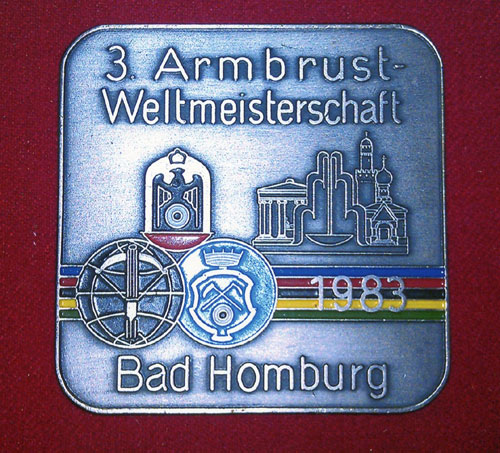 Participation momento.

---
| Home | 1979 Linz | 1981 Arosa | 1983 Bad Homburg | 1985 Zundert | USANA Shoots | 1987 Rohrbach | 1989 Wolverhampton | 1991 Wil | 1993 Bully-les-Mines | 1995 Naefels | 1997 Ringgenberg | 1999 St. Veit | Distinguished Shooters | National Records | Medals Ranking | Meetings |
---
If you have any photos or results, please email to the webmaster Ray Carter at raypcarter@comcast.net.