William Tell
William Tell is a folk hero of Switzerland, whose legendary exploits were first recorded in a late 15th century Swiss chronicle. The story of William Tell is set in the early 14th Century, during the time of the original foundation of the Old Swiss Confederacy.
The legend states that William Tell, originally from Bürglen, was widely known as an expert shot with the crossbow. During this time, the Habsburg emperors of Austria were seeking to dominate the Canton of Uri. Albrecht Gessler, the newly appointed Austrian Vogt of Altdorf, raised a pole in the village's central square, hung his hat on top of it, and demanded that all the citizens bow before the hat. When Tell passed by the hat without bowing to it, he was arrested. As punishment, he was forced to shoot an apple off the head of his son, Walter, otherwise, both would be executed. Tell was promised freedom if he successfully made the shot.
On November 18, 1307, Tell split an apple on his son's head with a bolt from his crossbow. Gessler noticed that, before the shot, Tell had removed two crossbow bolts from his quiver, not one, and after the shot, asked him why. Tell replied that if he had killed his son, he would have turned the crossbow on Gessler himself. Gessler was angered, had Tell bound, and then had Tell brought to his ship to be taken to his castle at Küssnacht. A storm broke on Lake Lucerne, and Tell managed to escape. He went by land to Küssnacht, and when Gessler arrived, William Tell shot him.
William Tell's defiance sparked a rebellion, in which he played a leading part. The struggle eventually led to the formation of the Swiss Confederation. Tell is said to have fought again against Austria, in the 1315 Battle of Morgarten. William Tell died in 1354, while trying to rescue a drowning child from a river in Uri.
But no documents have been found, concerning a person named William Tell or the assassination of a bailiff in central Switzerland. Only in 1470, more than a century after these events are alleged to have happened, a chronicle called the "White Book of Sarnen" reported the legend for the first time.
A few years later, William Tell takes a prominent role in a ballad, singing the praises of the beginnings of the Swiss Confederation. Centuries later, William Tell is also mentioned in the standard history book, Chronicon Helveticum, written in 1734 by Aegidius Tschudi.
The classical drama, William Tell, by the well-known German poet Friedrich von Schiller, was first performed in 1804 at Weimar, and it is the most popular version of the legend of William Tell. And to this day, Schiller's drama is performed on stage, every year, in Interlaken.
Friedrich von Schiller was always very interested in the subject of liberty, and his drama played an important role in boosting German morale during the wars against Napoleon. Before and during the second World War, William Tell became an important symbol of the Swiss will to withstand the Nazis and to defend Switzerland's autonomy against Hitler's ideas of the "Greater Germany".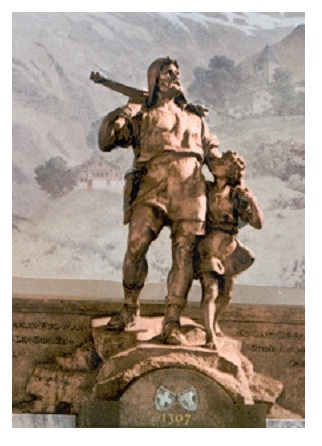 (This image shows the central detail of the William Tell Monument in Altdorf, which was sculpted by Richard Kissling in 1895.)




(Swiss stamp showing Walter Tell, the son of William Tell, with crossbow and an apple with a bolt through it.)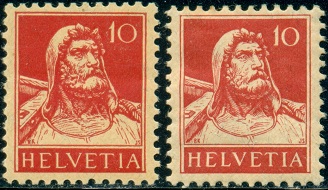 (Swiss stamp of William Tell - 1914)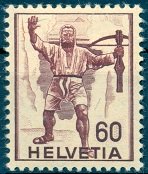 (Swiss stamp of William Tell - 1941)
---
|William Tell | Home | 1979 Linz | 1981 Arosa | 1983 Bad Homburg | 1985 Zundert | USANA Shoots | 1987 Rohrbach | 1989 Wolverhampton | 1991 Wil | 1993 Bully-les-Mines | 1995 Naefels | 1997 Ringgenberg | 1999 St. Veit | Distinguished Shooters | National Records | Medals Ranking | Meetings |
---
If you have any photos or results, please email to the webmaster Ray Carter at raypcarter@comcast.net.
Back to home page.